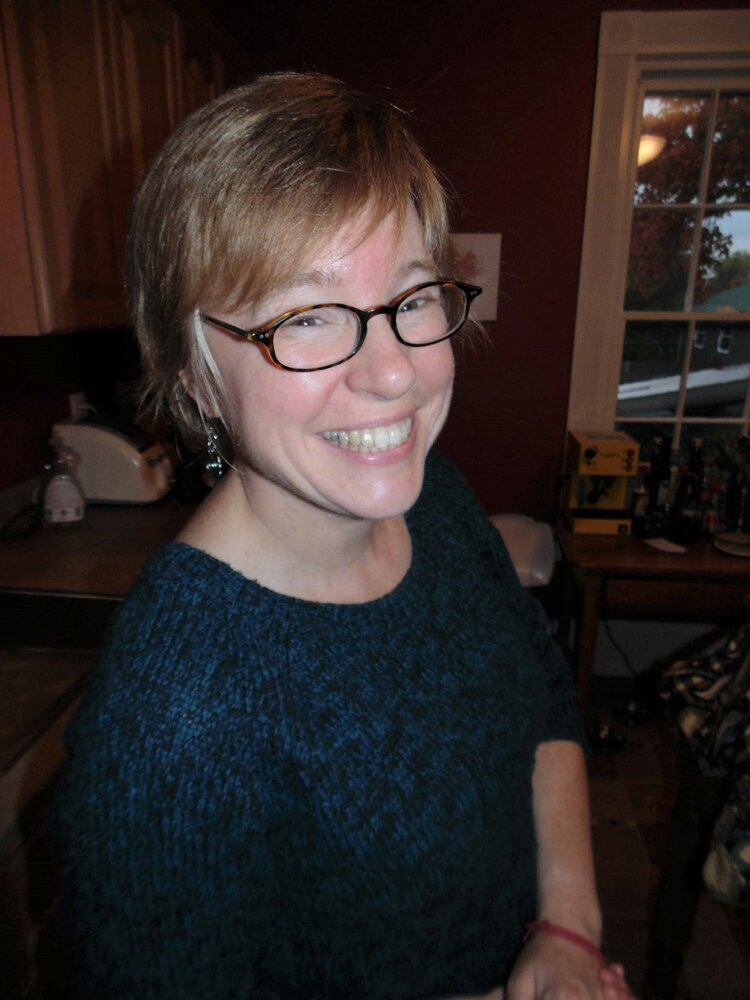 Celebration of Life
A private in person service will take place at the Sackville United Church on Sunday, May 22nd at 2 pm. All others are welcome to join this service via Zoom using the link in the obituary. Vallie's burial will take place in the Westcock Cemetery following the service.


Obituary of Vallie J. Stearns Anderson
Vallie Stearns Anderson passed in the comfort of her home on May 19th, 2022, at the age of 58. As Vallie transitioned into the next phases of her Buddhist path, daffodils swayed in the front yard, her beloved cats Gigi (named after feminist Germaine Greer), Leona (similarly named after a feminist idol) and husband Kevin Stearns Anderson were at her side. The last seven years of Vallie's life, living with brain cancer, were rich, joyful, and well-lived.
Vallie was born in 1964, in Cheney, Washington, to Brent Stearns and Louise White Stearns (born Enloe White). She spent the majority of her upbringing in Winnipeg, Manitoba, alongside her brother Edwin (four years her junior) with regular trips to visit her mother and relatives in the US. After an early period of travels abroad she lived in Ottawa, and then moved to New Brunswick (Fredericton and Saint John, eventually settling in Sackville).
Her interest in social justice was encouraged at home through example. Both her parents were active in the anti-war movement, and her mother was involved in efforts such as founding a Native library in Winnipeg. Her commitment deepened through her life. Throughout adulthood she persistently pursued societal transformation.
She began her undergraduate studies at Mount Allison University, then at the age of 20 transferred to Friends World College with which she did self-directed research overseas on topics that came to colour the rest of her life: women and gender related issues such as economic and power inequalities as well as oppression. During her year in Japan, she studied representation of gender in media, and in her year in the Philippines she studied human trafficking. Upon returning to Canada, Vallie completed her undergraduate degree in Women's Studies and Sociology at Carleton University. Later, she studied law at the University of Ottawa with a keen interest in the relationship of law and social equity. She was admitted to the bar in 2002.
She soon began to work in areas that allowed her to act clearly in accordance with her values: in Ottawa she worked for a sexual assault clinic that provided crisis counselling to survivors. Vallie was a social justice force to be reckoned with. She didn't hesitate to show up and raise her voice at rallies or protests aligned with her values. While she was never arrested, she did go as far as chaining herself to a fence during an anti-war protest.
Vallie later threw herself into work with the Canadian Union of Public Employees as a negotiator, representative and researcher. This prompted her move to New Brunswick. She poured decades of volunteer energy into the New Brunswick Coalition for Pay Equity. When she moved to Sackville and there was no local branch, she created one.
While in Ottawa, Vallie gained an especially close community and developed relationships, many of which remained strong through the rest of her life. As one friend remembers, while "other people would say you have to be solid; you have to be who you are," she rejected that and was open to exploring who she was, even as it changed over time. Vallie shared this gift of openness and acceptance toward herself with her friends and family as well, not expecting them to be a particular way. She came out to her family during her time in Ottawa and had many friends in the queer community. She proudly donned her rainbow knitted hat for comfort and warmth in her final months noting its meaning with a smile. Vallie missed her close-knit Ottawa friends when she moved to the Maritimes. But she found meaning in her work and gradually found a loving and accepting community in New Brunswick as well.
Vallie initially trained as a lawyer in part to be able to raise a child solo. Occupied with other life endeavors, the opportunity to have children of her own eventually passed. But when her brother Edwin had his children in 1999 and 2001, Vallie embraced this chance to act as a dedicated aunt. From this point on, she was a source of encouragement and steadfast love for several young people: her nephew and niece Gordon and Gabrielle Stearns, Kevin's children Dan and Beck Aurell, and her great niece Liz Keeling, all benefited from her deep love and friendship. She also put significant effort into renewing her relationships with her extended family, which included a continued close relationship with her Aunt Carolyn. She is survived on the Stearns side by her brother Edwin (Nicole) Stearns, her stepmother Lily Kowal Stearns, her aunt Ellie Loring, and many loved ones including Bob, Richard, and Dinnie.
Vallie started her Buddhist journey in Ottawa along with a dozen young beginners who engaged voraciously in learning and questioning tradition. "We were all in our late 20s and 30s. And we were past that kind of stage where you try to discover yourself or be outrageous to express yourself", says Tejumo, a member of the group. "We all came into that same world wanting to be happy. But not happy as a career person – happy as a human being."
Once she moved to the Maritimes, the Buddhist community, or sangha, continued to be very important to Vallie. In Fredericton, she was active in the Shambhala Buddhist center, and in Saint John, she led a meditation group for many years. In Sackville she took part in, and led, a Shambhala-affiliated meditation group.
At a Vajrayana Seminary program, in line with her joyous nature, she talked three other participants into memorizing lines and putting on a performance of the four dignities: Tiger, Lion, Garuda, and Dragon. Vallie performed the role of Tiger. One of them completely forgot their lines, and instead did a creative dance impression. As Kristine remembers, "it was hysterical, it was so much fun. She would bring performance into where there wouldn't have been performance." Eventually she was given the Buddhist name Trime Tak, meaning "Stainless Tiger".
Theatre was a source of delight, and at times a way to impact the world. Even in her early years at Mount Allison University, she led an adaptation of Waiting for Godot that featured an all-woman cast. Also in her last years of life she took part in many plays with the Performers' Theatre Company in Sackville, and treated other students to her presence in theatre classes at Mount Allison.
While work took her to New Brunswick, love led Vallie to Sackville. She met Kevin at a meditation retreat, and they cultivated a deeply committed relationship that let them both thrive. Kevin and Vallie were married at the same retreat center in 2013. They shared many adventures including travel to visit family, quiet time relaxing in a hammock 40 feet up trees, kicksledding on lake ice even as Vallie's physical abilities changed, supporting each other in theatre productions, and moving into an older house and making it a home together.
In her last period of life, she displayed profound courage and curiosity – even with experiences in the process of dying that many would find strange or unwelcome. In January, Vallie experienced vivid visual phenomena. She described glassy creatures: green snakes with red forked tongues, armadillos, dragons. She was fascinated by these perceptions. With the aid of medication, the symptoms subsided, but she was curious about other aspects of her last journey as well. She read about what might happen to her and compared her experience with traditional writings that engage with death. This inspired many close to Vallie to explore experiences of life and death with a similar attention. She always invited her friends, family, and fellow practitioners to sit with her in daily meditation. She was supported, and she supported her circle in equal measure.
In lieu of flowers, donations can be made to The New Brunswick Coalition for Pay Equity / La Coalition pour l'équité salariale du Nouveau‑Brunswick https://equite-equity.com/en/donate
Arrangements have been entrusted to Erin Campbell and staff of Campbell's Funeral Home, 89 Bridge Street, Sackville, N.B. (506) 364-8188. A private in person service will take place at the Sackville United Church on Sunday, May 22nd at 2 pm. All others are welcome to join this service via Zoom using the link below. Vallie's burial will take place in the Westcock Cemetery following the service.
Please follow this link for the online gathering for 2 pm on Sunday.
https://us06web.zoom.us/j/85726885122?pwd=OUxUcVRHS0NEK1B3K3FqRmY0anRyQT09
Meeting ID: 857 2688 5122
Passcode: Vallie


Share Your Memory of
Vallie

89 Bridge St.
Sackville, New Brunswick E4L 3P1