Our Heritage

The history of the Campbell family businesses goes back more than 165 years in Sackville, New Brunswick.
Ronald Campbell came to the area from Cornwallis, Nova Scotia, in 1823. Initially employed at the Morice Mill in Middle Sackville, by 1851 Ronald was listed in the census as a carriage maker. He and his son, George, opened the Campbell Carriage Factory in 1854 and later opened a blacksmith shop.
The various products of the Carriage Factory included not only carriages, wagons and sleighs, but also furniture, picture frames, and coffins. Records show they also sold hay, lumber, molasses, candles, and yarn. Funeral services began to be offered, and it appears that they did shoe repairs at the factory, and may have even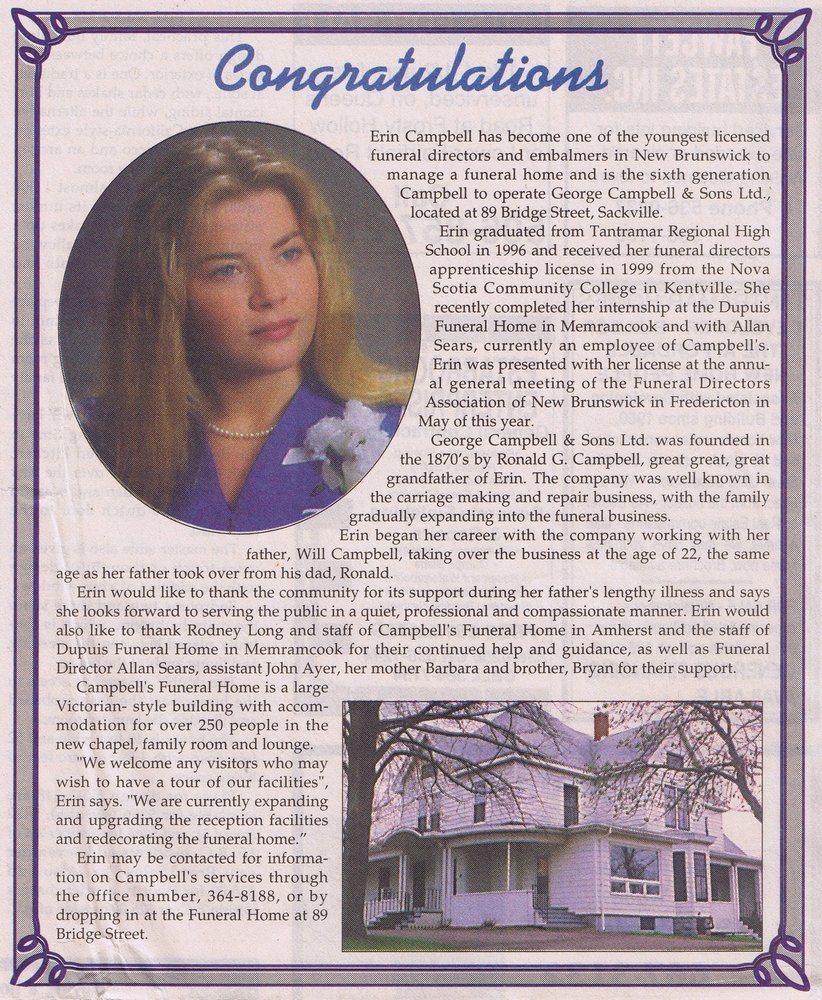 made boots. The Carriage Factory was closed by the Campbell family in 1949, at the end of the horse transportation era.
The Campbell Carriage Factory was donated by the Campbell family to the Tantramar Heritage Trust in the late 1990s. The Trust has done a wonderful job restoring the buildings. Today, the Factory is open to the public as a living museum in its original location. Learn more at the Trust's website.
The funeral business showed steady growth during the late 1800s and past the turn of the century. In 1912, William E. Campbell, grandson of Ronald, left for Halifax, Nova Scotia, where he assisted with caring for the remains of the victims of the RMS Titanic.
George Campbell and Sons Limited, one of the earliest established funeral businesses in the Maritimes, expanded to Amherst, Nova Scotia in 1936, with the purchase of a funeral home there.
The current Campbell's Funeral Home on Bridge Street in Sackville was purchased by the family in 1964. William R. Campbell, G. Ronald's grandson, became a Funeral Director in 1970 and greatly expanded the facility in 1994. Will was careful to ensure that the renovations, including the addition of a spacious chapel, would blend in with the existing structure. Will passed away in 2000, and his daughter Erin M. Campbell carries on the family business to this day. Erin is the sixth generation of the family to do so, and the first woman in the family to assume the role of Funeral Director.