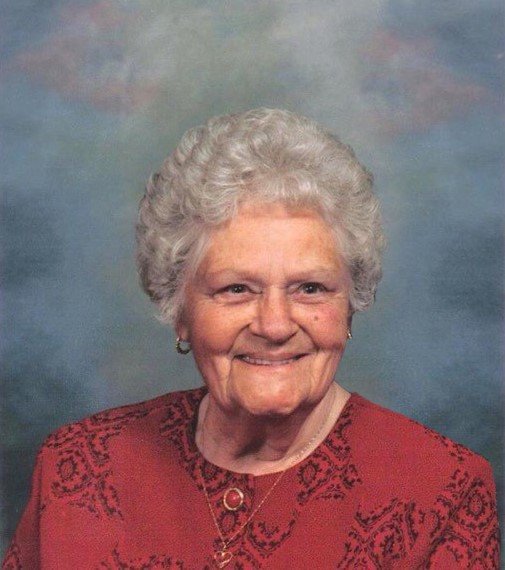 Obituary of Peggy Joyce Ricker (Snowdon)
With heavy hearts but with assurance of her destination, our family announces the passing of our mother, grandmother, and great-grandmother, on July 29th, four days after her 95th birthday, at the Drew Nursing Home, Sackville, NB, after a period of failing health. She was born on July 25, 1924 in River Hebert, Nova Scotia.
A woman of strong unwavering faith in God, Mom was known for her sense of humour and love for all things Blue Jays. Her wonderful personality and genuine love for people and her Lord won the trust and hearts of many during her life. She possessed a constant nurturing love and faith. With a true servant's heart, Peggy faithfully cared for family and friends, and was always willing to help others. A woman of faith, and the heart of her family she shaped their spirituality by her tireless Christian example. With a real zest for life, she loved to read, travel with Arnie and her family, bowl, socialize with her friends, and was proud of her success in learning to use her computer in her 80's. She was a faithful prayer warrior and knew and believed in the power of prayer.
Mom was the much-loved matriarch of our family and was often referred to as the hub of the wheel of a huge family. She was proud to have been one of the first hires when The Drew opened and was loved by the residents and fellow staff, some who ended up caring for her during her five years as a resident there.
After sixty-seven years together she was pre-deceased by her husband Arnie in 2016. She is survived by her daughters and sons-in-law, Nancy & Ron Manderson and Janice & Daryl Trites as well as Dianna Edgett (Terry) who was Mom's daughter of her heart; four grandchildren, Marc Trites (Andrea), Rebecca Estabrooks (Dan), Kraig Manderson (Tina) and Kevin Manderson (Sarah); seven great-grandchildren, Sam, Aiden and Marek Trites and Ruth, James, Thomas and Levi Estabrooks; two sisters Leona Bugley (Dave) and Charlotte Purdy (Layton) as well as many, many beloved cousins, nieces and nephews.
She was pre-deceased by her grandparents, Annie & Isaac Snowdon; her mother, Charlotte (Lottie) Stevens and her siblings, Ralph, Clarence, Harvey, Garfield, Sydney, Betty, Doreen, Roberta, and Pearl. She has left a legacy of love which is in each of us whose lives she formed and touched by her love.
The family is deeply grateful for the outpouring of love and wonderful care Mom received from her Drew "family". The staff are second to none and gave Mom great care, love and affection.
Arrangements have been entrusted to Campbell's Funeral Home, 89 Bridge Street, Sackville, N.B. (506) 364-8188. Visiting hours will take place at the funeral home on Saturday, August 3, 2019 from 2-4 pm. The funeral service will take place on Sunday, August 4, 2019 at 2 pm at the Main Street Baptist Church, Sackville, with Pastor Andrew Swanson officiating. The burial will take place in the Westcock Cemetery.
In lieu of flowers, donations in memory of Peggy may be made to the Main Street Baptist Church, Drew Nursing Home or to the charity of one's choice. On-line condolences & sharing of memories may be forwarded to the family through our website www.campbellsfuneralhome.com or by visiting the funeral home Facebook page.
"Proverbs 31:28 – Her children rise up and call her blessed"