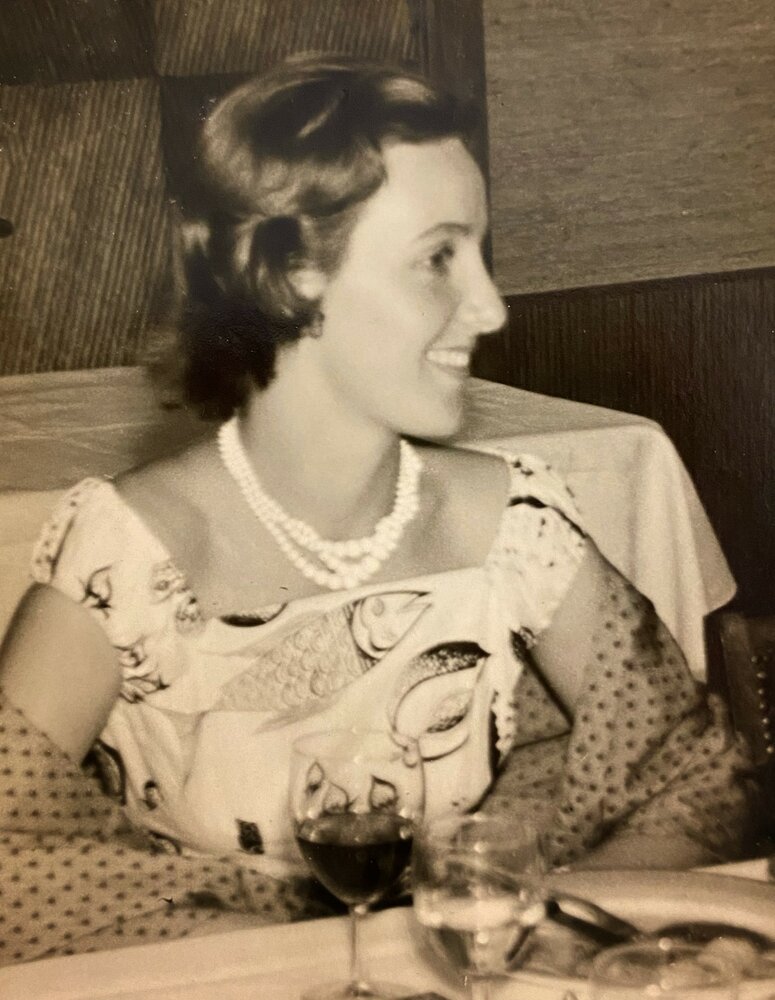 Obituary of Elisabeth Alexandra (Rubien) Hulsman
Elisabeth Hulsman, determined spirit, mother of three, and an unwavering role model, died in palliative care at Sackville Memorial Hospital on Tuesday, September 13. She was 89.
It seems fitting that our Mum's passing would follow so soon in the shadow of the Queen's. We grew up with the story of her camping out with friends, near Trafalgar Square, to catch a glimpse of the young princess in her carriage, enroute to Westminster Abbey. Our mother, sleeping on a London sidewalk, aswirl in the crowds of the coronation. So seemingly epic and adventurous.
Two of those first friends called recently, with memories of grammar school in the mid-1940s. The uniforms they wore, the afternoons of field hockey, the exploits only hinted at. They told everyone that they were Maltese princesses and strived to dress the part. The origins of it are all now a bit hazy.
One of those Mediterranean royals, my mother, would make her way to Paris, working first as a nanny and then joining the secretarial pool at the headquarters of NATO. Before that, or perhaps after – we could've paid more attention - was her time at the Royal Opera House at Covent Garden, where she'd slip from her spot in the costume department, to the back of the theatre to hear the great Joan Sutherland rehearse.
These dispatches were never lent grandeur or embroidering. The way Mum explained it, she might as well have been Paddington Bear, happily meandering from one escapade to the next. And yet to be young and hear these names and places. Hints that there was a world beyond Sackville, intriguing in all directions. Mum inspired us to go explore it, even if she seemed disheartened when we didn't return afterwards, at least not reliably enough.
'Seems' was often the best you could do with Mum. She was fiercely private and an unfailing stoic. When she had breast cancer and a mastectomy in 1994, she said not a word to us, only later acknowledging the surgery, reluctantly, while insisting she didn't have cancer, and even if she did, she's absolutely fine, always has been. "Let's talk about you…"
What does one make of that? Our mother was steadfast. Incredibly loving, though anything but soft. She had standards that you could meet, or not. Regardless, they weren't changing. There'd only ever be one set of spots for this leopard. In 1983, a time when exactly none of her kids ventured anywhere near Tantramar's honour roll - a record of abomination we maintained most years - Mum graduated from Mount Allison, earning a First-Class Honours with Distinction degree in French Literature. She obviously knew how well she was doing, though we certainly didn't, and even with little said, and us in our distraction, we knew she had achieved something that we should strive to match.
We all contain multitudes, our mother being no different. She had her values and beliefs and here, there were no mysteries. If you shared her penchant for classical music, the Western Canon, long walks, or a wariness for anything new age-y or spiritual, you had faithful ally. If you were less inclined, the ties might not be so firm. (In fairness, this may not be entirely true, though that's the sense she tended to exude.)
She treasured her friends. Fully and fiercely. To be around Mum was to hear their stories, most especially anything to do with the successes of their children. Biographies could be written; indeed recited. We know the same boundless pride extended to the achievements of her grandchildren. It was so apparent. She radiated joy on every report card, each accolade. And though she never spoke of the virtues of being either stoic or generous, loving or kind, in action and deed, Mum epitomized these qualities. She will be terribly missed by us.
Elizabeth Hulsman is survived by her children Noel (RaeAnn), Robert, Tessa, grandchildren Arielle, Kieran, Lauren, Veronica, Luke and great-grandchild Riley.
Funeral arrangements have been entrusted to Erin Campbell and staff of Campbell's Funeral Home, 89 Bridge Street, Sackville N.B. (506) 364-8188. In keeping with Elisabeth's wishes, cremation has taken place.
If so desired, donations in memory of Elisabeth may be made to Covenant House- www.covenanthouse.ca
On-line condolences and sharing of memories may be forwarded to the family through our website www.campbellsfuneralhome.com or by visiting the funeral home Facebook page.