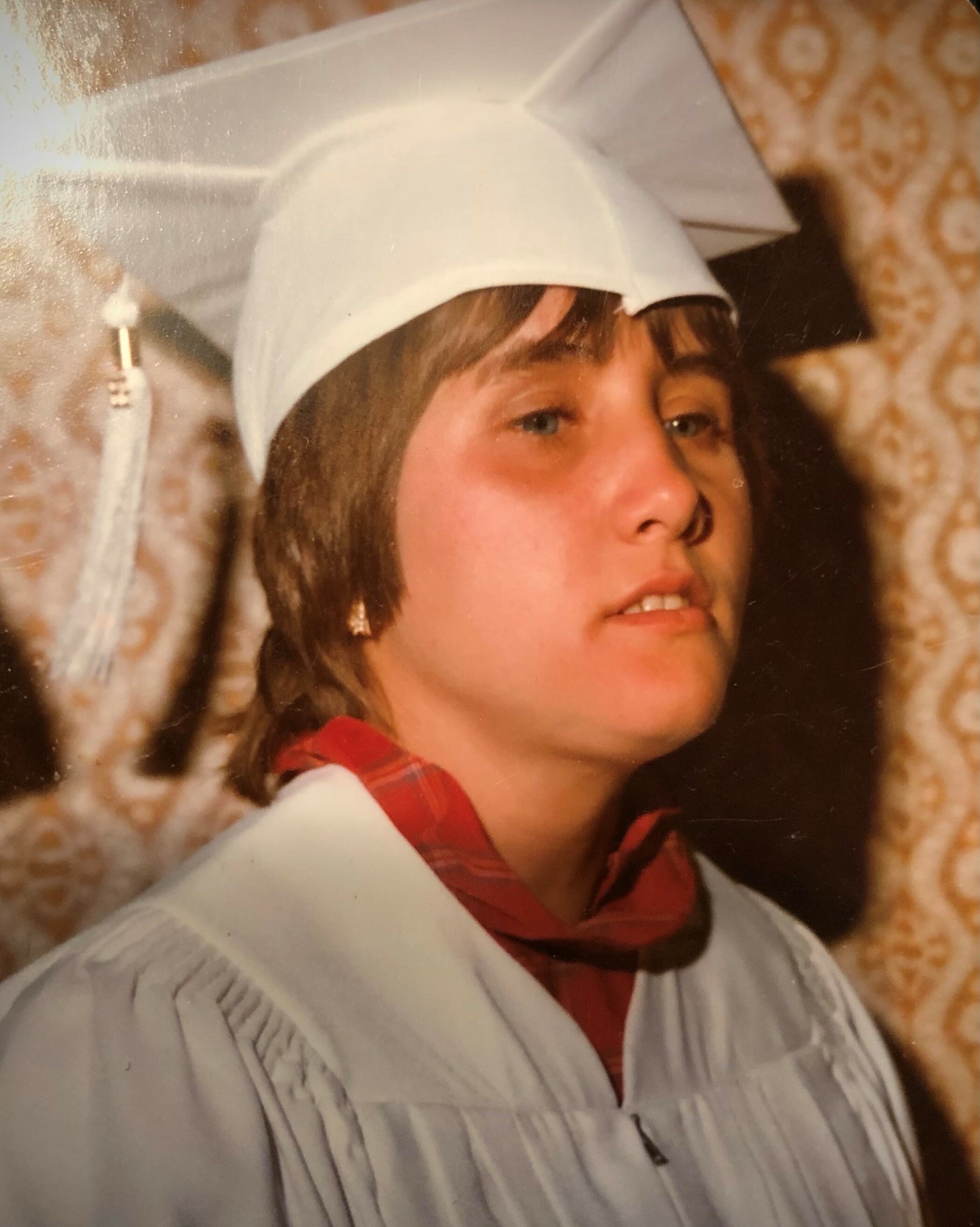 Obituary of Rose Marie LeBlanc
Rose Marie LeBlanc, 60, of Moncton NB passed away on September 13, 2021 at her care residence in Moncton.
Marie was born in Longueuil, Quebec to Henri M J LeBlanc and Anne M LeBlanc (nee Hutchison) on February 9, 1961. Having autism, she spent her teen and adult years in full care at various group homes in Quebec and New Brunswick, with her last residence at Woodstone in Moncton NB.
On Monday last week our lovely sister Marie passed away suddenly. We got a text that she was being rushed from her group home - she had severe autism and was in full care for 50 years - and then a call 30 minutes later .. she didn't make it to the hospital.
Much of her life was a mystery to all of us. She had the best vocabulary one would ever want for, centered around comfort food. "Bag of chips, chocolate bar, ice cream! ride in car," all strung together in one breath, with a brief pause to see if you were really listening, while those amazing crystal blue eyes of hers searched your soul.
For several of her young years while at home, Rhonda and David alternated as her caregiver – guardian. A usual daily ritual was making their way up to the corner store at the foot of the local cathedral to buy her a bag full of 10 cent bags of chips. Trapped in her own world, she would trace circles in the air with her index finger as if it were a magic wand creating new universes. She rocked to comfort herself, and utter some of the 100 or so words she knew, just in case you could ever possibly forget what was on her menu that day. Her double jointed dexterity saw her mischievously shimmy up narrow hallways and perch at the ceiling as if she were a human chandelier. She would climb up the narrow vestibule walls and perch silently at the ceiling above mom (Protestant) as she was talking to the French parish priest (Catholic) at the front door who dropped by for a parish visit. The outside fence became a balancing beam as if she were a champion gymnast. She had the agility and balance of a cat.
Ironically, her life had the most unlikely soundtrack: the song "They're coming to take me away, Ha-Haaaa! by Napoleon XIV https://www.youtube.com/watch?v=hnzHtm1jhL4 ( you will smile if you listen from this link )
She would pick it out every time from a huge stack of 45's that Pierre and Marcel kept in our bedroom in St Hubert, almost as if she could read the label.
Frustrated at not being able to communicate, Marie had internal thunderclouds that led to flash tantrums that saw her practice karate kicks on glass windows. When one's guard was down, she would dart out of our enormous yard and wander over to the local police precinct, and hold court while we were in search of her. In her younger years, there were no group homes. Dad and mom's love for her was ever so evident as they made the best arrangements possible for her care, starting at huge provincial hospitals, and merciful transfers to group homes that were hours of driving away.
It was heartbreaking for dad when it was time to say goodbye, a quiet kiss on the cheek as they went through their end of visit farewells.
There were things that she got up to in those years that we found out about later. She was in the Special Olympics as a runner, not surprising given her innate gymnastics from youth! She got into interior decorating, rearranging all the beds and furniture in her dorm rooms initially in institutional settings, and later on over the years in her own space at group homes. Everything had to be just so! On each visit, she would start off reciting roll call of all the names of all six siblings. And then, the menu of the day would start as she let us know what she was hankering for. With a mighty appetite for junk food, we knew she was a genuine LeBlanc!
Oh, to see what a life she would – could have led, out from underneath the heavy blanket of modern pharmacopeia. Dad's struggle to get her the care she needed, in an era where much of modern mental health did not exist, was profoundly moving. His camouflage outer military veneer melted in Marie's presence.
There was nothing that we could give to Marie except time and attention, sharing the kitchen table with her. What she gave to us was a lifetime Master Class in patience and unconditional love. That will be her lasting legacy to all of us left behind.
Marie was an unharnessable free spirit, a remarkable soul. If only we had access to her silent, inner realm. She is much loved, and deeply missed. May your new world be an unending feast of all your favorite treats, as you so richly deserved.
Marie is survived by her sisters, Laura (Toronto), Rhonda & husband Ross (Sackville NB); brothers, Guy and partner Sherry (Chaplin, Nova Scotia), David (Toronto) and Marcel and spouse Suzanne (Newmarket ON); nieces and nephews, Meagan and Marcia, Greg, Dawn, and Cheryl, Jess and Jennifer. She is preceded in death by her parents Henri and Anne, as well as by her brother Pierre, survived by former spouse Darlene.
Funeral arrangements have been entrusted to Campbell's Funeral Home, 89 Bridge Street, Sackville N.B. (506) 364-8188. In keeping with the family's wishes, cremation has taken place and a celebration of life will take place at a later date, with a private internment for the immediate family. The family extends its deep gratitude to Erin Campbell and all the staff at Campbell's for their support and gracious care.
Memorial donations may be made to CNAF Canadian National Autism Foundation, 38 King Street East, PO Box 66512, Stoney Creek, Ontario L8G 5E5 info@cnaf.net or a charity of your choice.
Marie's brothers and sisters would like to extend a special thank you to Colette Robichaud and staff at Woodstone, in Moncton, NB, who took care of Marie for many years and treated her as family; and the Moncton Hospital Emergency Dept. Their kindness and love is much appreciated.