Recommend Adrian's obituary to your friends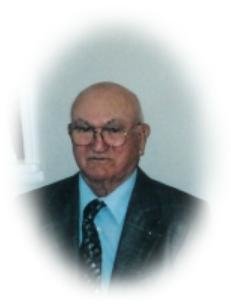 Obituary of Adrian King
Woodpoint, N.B.- Arthur Adrian King at age 85, went to be with his Lord and Savior, on Sunday, October 14, 2007 at the Sackville Memorial Hospital following a courageous battle with cancer.
Born in Rockport, N.B. on March 24, 1922, he was the son of the late Clarence and Sarah (Cole) King.
Adrian was a devoted and loving husband, father, grampie and great-grampie who was very proud of all of his grandchildren and his new great grand-daughter. He loved the outdoors, being an avid fisherman and hunter in earlier years and loved his home and family. Adrian was a member of the Masonic Order, Lebanon Lodge #28, Sackville, N.B..
Adrian will be sadly missed by his wife of 62 years, Norma (Reid) King of Woodpoint, N.B.; his children, Austin (Mary) King of Dorchester, N.B., Linda (Wayne) Wheaton of Woodpoint, N.B., Brian King of Woodpoint, N.B. and Marlene (Wilbur) Read of Woodpoint, N.B.; sister Sylvia Ison of Sackville, N.B.; brother Elliott (Alice) King of Springhill, N.S.; grandchildren, Arienne King, Melanie (Devon) Partridge, Michael Rhodes and Kirk Read, precious great-granddaughter, Adrianna Partridge and several nieces and nephews.
He was predeceased by an infant brother and by his brother Ivan; sisters, Reta and Ardoine and son-in-law Charles Rhodes.
Arrangements are entrusted to Campbell's Funeral Home, 89 Bridge Street, Sackville, N.B. (364-8188). Family will receive visitors on Monday, October 15, 2007 from 6-8 PM with a Masonic Service being held at 6:30 PM. The funeral service will be held on Tuesday, October 16, 2007 at 2 PM at Campbell's Funeral Home with Pastor Ryan Skaling officiating. A private burial will take place at the Sackville Cemetery.
In lieu of flowers, donations in memory of Adrian may be made to the Canadian Cancer Society Research Fund, Woodpoint Baptist Church, Rockport Cemetery or to the charity of ones choice.
To send flowers to the family of Adrian King, please visit Tribute Store