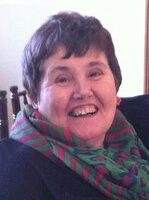 Heather Lynn (Salton) MacMillan
Arrived: Halifax, N.S., on May 17, 1950
Departed: Sackville, N.B., on January 30, 2022
A banker's daughter with roots in Cape Breton, Heather lived at times in Dartmouth, Wolfville, Halifax and Vancouver but eventually made her way to Sackville to attend Mount Allison University. Meeting her husband there, she made her home in Sackville for the rest of her life.
She was blessed with a gracious temperament and manner, and kindness was her hallmark. Anyone encountering Heather was charmed by her warm personality, her empathy and a smile that could light up any room.
A gifted communicator, she excelled in human resources, working in the federal government, private industry and academia. A quiet feminist, she broke barriers, including becoming the first woman to serve on the New Brunswick Labour Relations Board. She was also active in her community and was a founding member of the Sackville and District Assistance Centre (the food bank).
Curious and eager to see new places and experience different cultures, she travelled extensively in her twenties and thirties - highlighted by a ten-month version of the Grand Tour, which entailed visits to most of western Europe. Her favourites were France, Portugal, Greece and Switzerland. Gifted in picking up languages, she acquired a working knowledge of a host of them and used her fluency in French to spend months exploring the delights of Paris on a number of extended visits. Her detailed diaries bring those wonderful times to life.
Multiple sclerosis was a miserable burden for more than half her life and limited her ability to travel. However, in 2002, with great courage she undertook a 14-day odyssey on MV Northern Ranger, sailing up the Labrador coast as far as Nain. She won the hearts of the crew and fellow travellers with her pluck. When travel became ever more challenging, Heather delighted in spending time at her father's cottage on beautiful St. Margaret's Bay and using his Roadtrek to visit favourite South Shore haunts like Rissers Beach.
Heather was predeceased by her mother, Joyce (Lamond) Salton, and her father, Jack Salton. She is survived by her husband, Bayne; sister, Joan Salton; uncle, Hank Lamond; sister-in-law, Janet (Bill) Jardine; brothers-in-law, Boyd (the late Darlene) and Ian MacMillan; stepmother, Elizabeth Salton and her daughters, Alison, Faith and Lucy; nieces, Maya De-Vreeze, Carolyn Quinn and Eleanor Jardine; nephew, Sasha De-Vreeze; several grandnieces and grandnephews; and longtime friend and caregiver, Belinda MacLean. She leaves behind her devoted, dedicated, overworked and underpaid family of caregivers at the Drew Nursing Home, who made her life there much more than merely bearable. Their friendship and kindness will never be forgotten.
Arrangements have been entrusted to Erin Campbell and the staff of Campbell's Funeral Home, Sackville, N.B. Online condolences and sharing of memories may be forwarded to the family through www.campbellsfuneralhome.com or by visiting the funeral home Facebook page.
Cremation has taken place. You are invited to join the family at a graveside service in the Sackville Cemetery, 109 York Street, on Saturday, May 28 at 2 p.m. At 2:30 p.m. we will gather at Campbell's Funeral Home, 89 Bridge Street, to visit and share our memories of Heather. Masks are recommended for the reception.

Donations in memory of Heather may be made to the Drew-Tantramar Foundation, the MS Society of Canada or the charity of your choice.
May memories of Heather's smile comfort you in the days ahead.