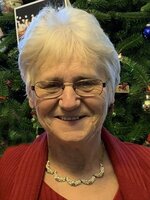 Nellie Jean Grant
It is with great sadness that we announce the passing of Nellie Jean Grant of Cape Spear, NB on Saturday, September 25, 2021 at the Sackville Memorial Hospital after a hard-fought and courageous battle against cancer.
Nellie was born on April 6, 1955 in Murray Corner, NB and she was the daughter of the late Nellie Olga (Stright) and Glenn David Dulenty.
Nellie was no stranger to hard work. Whatever she did, she worked hard: working in a kitchen, doing clams, working as a processing worker at a lobster facility and for Atlantic Windows. Nellie had a great sense of humor, and she was very much a "tell it like it is" kind of woman. She was quick-witted and loved making others around her laugh. Nellie enjoyed playing cards, bingo, cooking and baking in her spare time. She loved her family and enjoyed having them together, looked forward to hosting family dinners and always cooking giant feasts to ensure that everyone had all of their favorite treats. Nellie was beautiful inside and out and she will be missed by all who knew and loved her.
Nellie will live on through her loving husband, John Grant; her children, JJ (Danielle) of Melrose, Ronnie of Cape Spear, Sabrina (Tommy) of Charlottetown, PEI and Julie of Sackville, NB, as well as by her grandchildren, Destiny, Vanessa, Gabryelle, Sara, Jayden and Elyssia. She will be missed dearly by her siblings, John (Ann) Dulenty of Murray Corner, Zerelda MacLean of Mississauga, ON, Glenda (Mark) Allen of Upper Cape, Stanley (Lilly) Dulenty of Murray Corner, Kathy (Dale) Alder of Murray Corner, Karen (Ian) Hurley of Bayfield and Muriel Jordan of Moncton, as well as by her sister-in-law, Cathy Cerretti of Bayfield.
Besides her parents, she was pre-deceased by her infant son, Ryan, as well as by her siblings, Walter, Leslie and Brenda.
Nellie's husband and children wish to thank her family and friends for supporting her throughout her journey, as well as a special thank you to Terri Lee, Nicole and Pierre.
Funeral arrangements have been entrusted to Campbell's Funeral Home, 89 Bridge Street, Sackville N.B. (506) 364-8188. In keeping with Nellie's wishes, cremation has taken place. A graveside service will take place in the Bayfield Cemetery on Thursday, September 30, 2021 at 2 pm with William Drysdale, DLM officiating.
If so desired, donations in memory of Nellie may be made to the Royal Canadian Legion Branch #81, Cape Tormentine, NB, the Dr. Sheldon H. Rubin Oncology Clinic at the Moncton Hospital (donate through Friends of the Moncton Hospital Foundation) or to the charity of one's choice. On-line condolences & sharing of memories may be forwarded to the family through our website www.campbellsfuneralhome.com or by visiting the funeral home Facebook page.