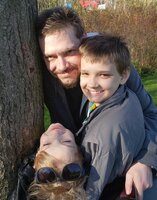 James Thomas Harry Williams
It is with deep sadness that we announce the unexpected passing of James Williams on Thursday, September 16, 2021 at his home in Midgic, NB. James passed away at the age of 44 years
Born in St. Thomas, Ontario on January 9, 1977, he was the son of Tommy Lawrence Williams and Cheryl Anne (Robinson).
In 1995 James graduated from Westervelt College with an Honors Diploma in Desktop Publishing and Internet Design, followed by his acceptance into Mohawk College in 1998 for software engineering. In 1999, he was married for a short time to his first wife, Sarah Louise Webster. James worked in 2000 for Cogeco and in 2001 was employed for pharmaceutical companies through MedEx. In 2005, James met and married his current wife, Katie, got himself off the Ontario Disability Support Program and was employed with Instaclick in Toronto. Unfortunately, after 6 months, he ended up on long term disability.
James moved to Ingersoll, Ontario in 2011, where he joined the Catholic Church a year later and also became a member of the Freemason's. He was a devoted Catholic and he volunteered for a charitable organization called Internet Sense First where, as a software engineer by trade, he wanted to make sure children were not being victimized online. In 2020, James and Katie moved to Midgic, NB where they were raising their young family.
James had a difficult childhood and a troubled youth, but he managed to improve his life with the help of psychotherapy and a Christian Baptist Minister with whom he crossed paths. In his teen years, he lost a child to abortion and as a father, he grieved this greatly. He became a strong supporter of "Right To Life".
James loved political history and he had several books on the go that he had not completed. He was extremely smart and people who met him considered him to be an "educational experience". He could explain the most complicated things to absolutely anybody having a talent for finding the right words for each person.
James was a loving and caring husband and father, and he will be greatly missed by his wife, Ekaterina "Katie" Williams; his daughter, Melana Allena Williams; his sons, Robert Victor Snihur, Alexander James Williams and Gabriel Bogdan Williams; his one brother; his four sisters, as well as by his extended family.
Funeral arrangements have been entrusted to Campbell's Funeral Home, 89 Bridge Street, Sackville N.B. (506) 364-8188. In keeping with James's wishes, cremation has taken place and a celebration of life will take place at a later date.
If so desired, donations in memory of James may be made to Internet Sense First, St. Vincent's' Roman Catholic Church or to the charity of one's choice. On-line condolences & sharing of memories may be forwarded to the family through our website www.campbellsfuneralhome.com or by visiting the funeral home Facebook page.