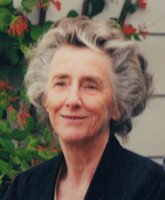 Lorraine Marielle Carpenter
Lorraine Marielle Carpenter, née Potvin, beloved wife and mother, died peacefully in her sleep at her home in Sackville early on Saturday morning, 11th September 2021.
Lorraine was born in Farnham, Québec to Arthur Potvin, a veteran of the 1914-18 war, and his wife Ezelma Guévin, on 16th November 1931, the first daughter in a family that would eventually comprise 6 children. She is survived by her husband of 62 years, Geoffrey, her four children: Paul of Sackville (partner Rebekah and Rebekah's children, Cassandra - and her daughter Hannah - and Tyler); Marie-Lorraine (Marielle) of Montreal, Québec; Marisol, of Gatineau, Québec (husband Edward Yeoman) and Elise (husband Nicholas John) of Raleigh, North Carolina; her four grandsons, Joseph, Gabriel, Fabien and Sebastien; her elder brother, Jacques, of Lac Brome, Québec (and his children in Denmark, Anne-Marie – and her son, Jacob Lindt – and Roger); and her younger sister, Yolande, of Trois Rivières, Québec (husband Pierre Potvin and their children, Line (husband Marc) and Carl (wife Nancy and their 4 children)). She was predeceased by her parents, her elder brothers, Gilles and Laurent (and his wife, Rita), and her younger brother, Paul.
Lorraine completed her schooling to Grade 9 at the convent in Farnham followed by a course at Oulton's Business College in St-Jean-sur-Richelieu where she won first prize. She then worked as a secretary at Barry and Staines in Farnham for the next 8 years. At that time too she was accepted into the Canadian army on a part-time basis as an Officer Cadet.
In the Fall of 1956, she and her brother, Laurent, went to France by ship for a 6-week tour of Western Europe, but she remained in Paris for the following year to study at the Sorbonne University and to work as a secretary part-time. In September 1957 when she was returning to Canada, again by ship, this time the "Empress of Britain", she met her husband-to-be who, after his arrival in Canada, found work with the Canadian Pacific Railways in Montreal. They were married in the Church of Saint-Romuald de Farnham, on the 2nd of May 1959 and both worked in Montreal until September 1960, when they set sail for Madrid, Spain, via London and Paris, where they lived for the next 7 years.
In her first year in Madrid, Lorraine took a course in Spanish studies at the University of Madrid and subsequently worked as a translator (French, English & Spanish). Her first two children were born in Madrid and in June 1967, the family returned to Canada by air when her husband took up a position as lecturer in Spanish at Mount Allison University.
In Sackville, Lorraine was a full-time mother and part-time student at Mt. Allison where several years later she graduated "cum laude" with a B.A. in Modern Languages (French, Spanish and German) and some years later with a B.Ed. She also continued part-time work as a translator throughout all those years.
Lorraine loved the Arts, Literature and Languages. She also studied Latin, Greek and Japanese at Mt. A. She liked to travel and took her family to visit her mother and brothers in the Eastern Townships in Quebec each summer. In the summer of 1970, the family (3 children then) drove by car to Mexico and back to learn about the country and Mexican culture. She, Geoff, and the children returned to Spain for three sabbatical years, two in Madrid and one in Granada. In 1993, she and her husband flew to Australia to visit his Australian relatives along the eastern coast – from Sydney to Cairns – and then in 1998, they flew to San Francisco and British Columbia.
Lorraine also liked nature and the outdoors, walking in the Waterfowl Park and at Beech Hill. She enjoyed sporting activities. When younger, she used to ski, play badminton and tennis, and go swimming. In Sackville, she would use Mt. A's fitness facilities and was a regular each week at the mid-day swim session at the Mt. A pool, still swimming lengths at the age of 86. And at the cottage in the summer, she enjoyed swimming at Parlee Beach.
Lorraine was loved by all her family and by all who knew her. She is sorely missed but will be much remembered. R.I.P.
Arrangements have been entrusted to Campbell's Funeral Home, 89 Bridge Street, Sackville, N.B. (506) 364-8188. A funeral service will be held at Campbell's Funeral Home on Wednesday, September 15, 2021 at 11:30 am with Father Broderick officiating. A reception with light refreshments will take place from 10:45 am until the time of the service at 11:30. In light of the current case numbers in the local area, the family has requested that masks be worn while inside the funeral home during visiting hours and for the funeral service. We thank you for your understanding. Following the service, the burial will take place in the Holy Rosary Cemetery, Sackville.
If so desired, donations in memory of Lorraine may be made to the Sackville Memorial Hospital or to the charity of one's choice. On-line condolences & sharing of memories may be forwarded to the family through our website www.campbellsfuneralhome.com or by visiting the funeral home Facebook page.
Here is a written transcript of the eulogy that was presented at Lorraine's funeral this past Wednesday, September 15th, 2021.
Eulogy.Lorraine Carpenter (office.com)