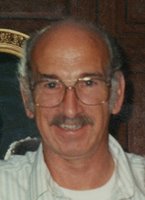 Clarence John "Gary" Colp
It is with deep sadness and heavy hearts, that we must announce the passing of Clarence "Gary" Colp. Clarence passed away peacefully at the Drew Nursing Home, Sackville, on Wednesday, June 19, 2019 at the age of 82.
Born on July 1, 1936 in Whites Lake, NS, he was the son of the late May Lillian (Christian) and Cash Cannon Colp.
Clarence was a Warrant Officer in the Canadian Navy for twenty years and then spent over 30 years as a mechanic. He enjoyed hunting, fishing and spending time with his family. Clarence has greatly missed his wife of over 60 years, Edith, who passed away in 2017.
Clarence will be lovingly remembered by his son, Mike (Sue) Colp of Middleton, N.B., as well as by his daughter, Dianna Finley of Sackville, N.B.; his two brothers, Nick (Lydia) Colp of NS and Charlie (Kathleen) Colp of NS; his three grandchildren, Allan Crandall, Colton Colp and Heidi Colp; his great-granddaughter, Claire Crandall, as well as by many nieces and nephews.
Clarence was pre-deceased by his wife, Edith Lindsey "Edie" Colp in 2017, as well as by his brothers, Vern and Kenny.
Funeral arrangements have been entrusted to Campbell's Funeral Home, 89 Bridge Street, Sackville N.B. (506) 364-8188. An evening of remembrance will be held for family and friends on Monday, June 24, 2019 from 7-9 pm at Campbell's Funeral Home, Sackville. The burial will take place in the Dorchester Cape Cemetery, at a later date.
If so desired, donations in memory of Clarence may be made to the Dorchester Cape Cemetery, the Drew Tantramar Foundation or to the charity of one's choice. On-line condolences & sharing of memories may be forwarded to the family through our website www.campbellsfuneralhome.com or by visiting the funeral home Facebook page.