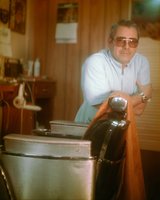 Jack Milton Phinney
It is with great sadness that the family of Jack Milton Phinney announces his passing at the Moncton Hospital on Monday, December 24, 2018. Jack passed away at the age of 85, surrounded by his loving family.
Born in 1933 in Midgic, New Brunswick, Jack was a lively, fun, family man who adored his family and enjoyed outdoor activities like fishing and hunting. He was a barber in Sackville for 62 years. In 1971, he was a member of the Goodwin's Discounts softball team, who won the Intermediate D Maritime championship. Later, he coached several softball teams, including the Brunswick Pallets, who won their championship. He then umpired for many years after that.
Jack will be sadly missed by his wife, Carol Katherine (MacKinnon); his children. John (Kathy Wheaton), Allan (Barbara), Kevin (Darlene) and Jacqueline Archibald (Joey); his loving grandchildren, Matthew (Brittany), Amanda (Andrew), Mallory, Shannon (Danielle), Christian, Jacqueline (Andrew), Alexander (Meagan), Emma (Travis), Max, Adam (Sarah Wilson), and Jessica, as well as by 15 great- grandchildren (with one on the way).
Jack will also be sadly missed by his sister, Joan Alder; his brothers, Wallace and Tom; his daughter-in-law, Kathleen; his sister-in-law, Edna MacKinnon, as well as by numerous nephews and nieces and their children. He will also be missed by his many friends in the Maritimes and beyond.
Jack was predeceased by his parents, Milton and Blanche (Richards) Phinney; his son, Timothy Byron; his sister, Audrey; his brother, Fred; his brothers-in-law, Johnny, Chester, Muir, Buddy, Victor, as well as by his sisters-in-law, Connie, Dot, Louise, and Doris.
Arrangements have been entrusted to Campbell's Funeral Home, 89 Bridge Street, Sackville, N.B. (364-8188). Visiting hours will take place at the funeral home on Friday, December 28, 2018 from 6-8 pm. A celebration of Jack's life will take place on Saturday, December 29, 2018 at 1 pm at the Middle Sackville Baptist Church with a reception to follow.
In lieu of flowers, donations in memory of Jack may be made to the charity of one's choice. On-line condolences & sharing of memories may be forwarded to the family through our website www.campbellsfuneralhome.com or by visiting the funeral home Facebook page.