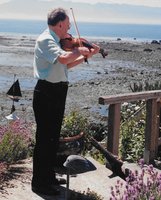 James Preston Ingalls
It is with deep sadness that we announce the passing of James Preston Ingalls on Thursday, November 29, 2018 at the Drew Nursing Home. James passed away peacefully at the age of 99.
Born in Grand Harbour, N.B. on May 5, 1919, he was the son of the late Frank and Alfretta (Wilcox) Ingalls.
James was raised in Ingalls Head and went to school in Grand Harbour. He helped his father fish and his mother look after a large family. In his teens his father, Frank, bought him a violin and on his own, he started the US School of Music Correspondence Course. While he loved the jigs and reels, his passion was for classical music and the old hymns.
His love of music continued all his life, and throughout much of his working life he still practiced an hour or two a day. The Ingalls home was filled with music, and especially the great romantic violin concertos: Beethoven, Paganini, Brahms, Tchaikovsky, Mendelssohn, and Dvorak.
He married (Juanita) Audrey Shepherd on August 9, 1945. The two were among the founding members of the Grand Harbour Reformed Baptist Church, which later became Central Wesleyan.
In the early years of their marriage as their four children came along, the young couple lived not only on Grand Manan but in what was then Perth, NB (now Perth-Andover), St. Stephen, NB, Yarmouth, NS and Saint John, NB. After a move to Western Canada in the spring of 1965, he worked for seventeen years as a custodian for District 59 South Peace School Board in Dawson Creek, British Columbia. During most of those years he also helped Audrey run a Sunday School Mission for the Church of the Nazarene in Farmington, BC.
James and Audrey retired to Grand Manan in 1988, re-uniting with family and re-connecting with old friends and making many new ones. With friends they played music together at the North Head nursing home, in churches and at special events around the Island. Around 2010 James and Audrey moved to Saint John, NB. The two attended Trinity Church, where their youngest son, the Rev'd Dr. Ranall was Rector, where they made many new friends. Until an illness about seven years ago, James frequently attended Morning Prayer at the church, was involved in seniors' events, and went for many long walks with Tally, Ranall and Sherry's Corgi. When he was no longer able to stay at home, he lived first in the Church of St John and St Stephen Home in Saint John, NB, and then in the Drew Nursing Home in Sackville, NB.
He was a wonderful father, grandfather and friend. He passed on a great love of music to his children. Though there are few of his contemporaries still living, he will be greatly missed by those who knew him.
James will be lovingly remembered by his children, Elaine (Hugh) Hogg, Norman (Joanne) Ingalls, Laurie Ingalls (Faye Wardrop) and Ranall (Sherry) Ingalls; his grandchildren Heather (Bill) Austin, Heidi, (Al) Burns, Shaney (Clough) and Jodey, Laine, Nicholas, Aidan and David Ingalls, as well as by his great-grandchildren, a new great-great granddaughter; nephew, Leon Ingalls; nieces, Arlene Small and Janice Neves, as well as by surviving members of Audrey's family.
He was predeceased by his beloved Audrey; by parents, Frank and Alfretta Ingalls; a toddler sister, Louise and two infant brothers, Glendon and Vasper; as well as by four brothers who survived into adulthood, Hartford (Bessie), Henry (Norma), Hayward (Helen), and Curtis (David), as well as by his son-in-law, Hugh Hogg.
Arrangements have been entrusted to Campbell's Funeral Home, 89 Bridge Street, Sackville, NB (364-8188). The funeral service will take place at St. Ann's Anglican Church, Westcock, NB on Monday, December 3, 2018 at 11 am. A reception will follow the service at St. Ann's Anglican Church Hall.
There will also be a celebration of the Holy Communion using the prayers and Scripture readings for the Commemoration of the Faithful Departed (Requiem) at 9 a.m. Monday morning at St Ann's.
In lieu of flowers, donations in memory of James may be made to Central Wesleyan Church in Grand Harbour, Grand Manan, NB, the Drew Nursing Home or to the charity of one's choice. On-line condolences and sharing of memories may be forwarded to the family through our website www.campbellsfuneralhome.com or by visiting the funeral home Facebook page.
The family would like to express their appreciation to Dr. Véronique Robichaud and the staff of the Drew Nursing Home for their attentiveness and care.