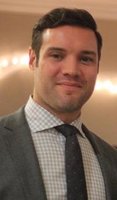 Brian Rees Campbell
Sackville, N.B.- It is with profound sadness that we announce the sudden passing of Brian Campbell on Thursday, November 15, 2018 in Calgary, AB. Brian passed away unexpectedly, following a brief illness, at the age of 37.
Born in Moncton, N.B. on April 10, 1981, Brian was the son of Barbara (Rees-Potter) Campbell and the late William Ronald Campbell.
Brian attended local schools in Sackville, NB. Upon graduation from Tantramar Regional High School, Brian first attended Bishop's University and then transferred to Mount Allison University, graduating with a Bachelor of Arts in Political Science and Economics in 2005. After graduating from MtA, Brian headed west to Alberta where he worked for several years in the oil and gas industry. Brian held a number of management positions and worked on many significant pipeline projects at Canadian Natural Resources Ltd., Fluor Corporation and Enbridge Pipelines Inc.
In 2013 Brian returned to the East Coast to attend law school in Fredericton. He was a summer law clerk at Cox & Palmer in Saint John in 2016 and he obtained his MBA and his Law Degree from the University of New Brunswick in 2017. After he graduated from law school, Brian returned to Alberta where he articled with Stikeman Elliott in Calgary. After being admitted to the Alberta Bar in September 2018, he joined Stikeman Elliott as an Associate Lawyer.
In recent years, Brian was involved with the family business, Campbell's Funeral Home in Sackville. He was extremely proud of his family history in the community and his New Brunswick heritage.
Mild-mannered, even-keeled, kind and funny, Brian had a positive impact on everyone he met. His strength of character, perseverance and quiet intelligence were an inspiration to his family, many friends and colleagues. Brian loved cats, in particular, Rosie and a crazy Bengal named Audrey Catburn. Following in his father's footsteps, Brian had a passion for old vehicles, including restoring vintage Corvettes.
Brian will be deeply missed by his mother, Barbara (Rees-Potter) Campbell; his sister, Erin Morgan Campbell; his niece, Avery Rees Campbell, all of Sackville; his girlfriend, Caroline McAvity, Saint John, NB; his Aunt, Mary Campbell, Riverview, NB; his Uncle, David (Carolyn) Rees-Potter, Perth, ON; his Godmother, Susan Jenkins (Beverly Smith), Rexton, NB; several cousins and other extended family in the Maritimes, England and Australia, as well as by many great friends across the country.
Brian was pre-deceased by his father, William Ronald Campbell in 2000, as well as by his maternal and paternal grandparents.
Arrangements are being handled by the family business he loved, Campbell's Funeral Home, 89 Bridge Street, Sackville, N.B. (506) 364-8188. A celebration of Brian's life will be held on Saturday, November 24, 2018 at 2:00 pm at the Mount Allison University Chapel, 63B York Street, Sackville. During the service there will be an opportunity for individuals to share memories and words of gratitude for Brian's life. A reception will follow at Tweedie Hall, located in the Wallace McCain Student Centre.
If so desired, donations in memory of Brian may be made to the Campbell Carriage Factory Museum (through the Tantramar Heritage Trust Inc.) or to the charity of one's choice. On-line condolences may be forwarded to the family through the website www.campbellsfuneralhome.com or by visiting the funeral home Facebook page.