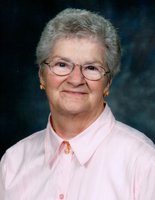 Norma Grace (Stokes) Estabrooks
It is with great sadness that we announce the passing of Norma Grace Estabrooks on Sunday, June 24, 2018 at the age of 83. Norma passed away at the Sackville Memorial Hospital surrounded by her loving family.
Born in Mount View, N.B. on February 21, 1935, she was the daughter of the late Grace E. (Sears) and John A. Stokes.
Norma was a telephone operator at the switchboard in Sackville for many years. Later, she decided to return to school to get her high school diploma, graduating with her daughter Janice in 1975. Following her graduation, Norma went on to work at Marshview Middle School and stayed there for 17 years until her retirement. Upon retirement, she enjoyed bowling, cooking, decorating wedding cakes, doing puzzles, travelling across the country with Merlin and spoiling her grandchildren. Norma will be greatly missed by all who knew and loved her.
Norma will be lovingly remembered by her husband of 64 years, K. Merlin Estabrooks; her children, Janice (William) Hirtle, Gordon (Deborah) Estabrooks and Colleen (Garry) Beal; her foster son, Joey Amyotte; her brothers, Russell Stokes, John (Marilyn) Stokes, David (Evelyn) Stokes and Chesley (Ann) Stokes; her sisters, Dorothy Snowdon, Irma Phinney, Mary (Larry) Dee and Brenda (David) Jewers; her 11 grandchildren; her 6 ½ great-grandchildren, as well as by many nieces and nephews.
Besides her parents, she was pre-deceased by her brother, Neil Stokes; her sister, Mona (Basil) Pierce; sisters-in-law, Joyce (Russell) Stokes and Mary (John) Stokes; her brothers-in-law, Alvin (Dorothy) Snowdon and Wendell (Irma) Phinney, as well as by her special cousin, Allan (Mary) Sears.
Funeral arrangements have been entrusted to Campbell's Funeral Home, 89 Bridge Street, Sackville N.B. (506) 364-8188. Visiting hours will take place at the funeral home on Wednesday, June 27, 2018 from 7-9 pm. The funeral service will take place at the Main Street Baptist Church on Thursday, June 28, 2018 at 2 pm with Pastor Andrew Swanson officiating. The burial will take place in the Sackville Cemetery.
Donations in memory of Norma may be made to the Main Street Baptist Church, Canadian Cancer Society or to the charity of one's choice. On-line condolences and sharing of memories may be forwarded to the family through our website www.campbellsfuneralhome.com or by visiting the funeral home Facebook page.