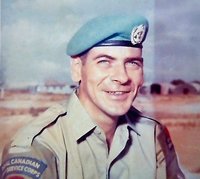 Richard Irving Harvey
Richard Irving Harvey, 88, of Sackville, NB, passed away on February 4, 2018 at the Drew Nursing Home.
Richard was predeceased by his mother, Susan (Murray) and by his father, Charles of Sackville.
Richard (Dick) is survived by his wife, Daphna Connie (Hicks); sister, Rose-Marie Johnson of Massachusetts; son, Charles; daughters, Shelley Else, Darlene MacPherson, Wanda Dasset, Sherry Brooks and by their families.
Dick was a loving husband, grandfather, great-grandfather and friend to all.
Born November 22, 1929 in Lynn, Massachusetts, Dick moved to Amherst, N.S. in 1941, then to Sackville, N.B. He worked at the Enterprise Foundry from 1944-1955, then joined the Royal Canadian Army Service Corps and retired in 1975. On retirement, Dick moved back to Sackville where he farmed, worked at Dorchester Penitentiary and as a Commissioner at Fort Beauséjour.
Dick loved to hunt and was a distinguished marksman in the Service. He liked to spend time with his family with whom he loved telling stories of past adventures and life experiences. Dick was very proud of his children.
Funeral arrangements have been entrusted to Campbell's Funeral Home, 89 Bridge Street, Sackville, N.B. (506) 364-8188. In keeping with Dick's wishes, there will be no visiting hours or funeral service. Following cremation, internment will take place at the Sackville Rural Cemetery, with the date to be determined.
In lieu of flowers, donations in memory of Dick may be made to the Multiple Sclerosis Society of Canada, Sackville Hospital Auxiliary or to the charity of one's choice. On-line condolences & sharing of memories may be forwarded to the family through our website www.campbellsfuneralhome.com or by visiting the funeral home Facebook page.