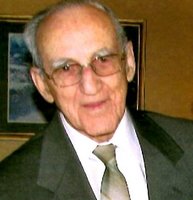 J. Gerard "Jerry" Landry
Sackville, N.B. & Cap-Pele, N.B.- It is with deep sadness that the family of J. Gerard Landry (Jerry) announces his passing on Wednesday, April 5, 2017 at home at the Castels des Flots Bleu in Cap Pele, N.B.
The last surviving member of his immediate family of nine brothers and three sisters, Jerry was born on May 16, 1921 in Saint Andre, N.B. and was the son of the late Tilman and Marie (Arseneault) Landry.
Jerry joined the Royal Canadian Air Force on April 7, 1941. He was trained as a Wireless Air Gunner and Navigator and flew with the Royal Australian Air Force #458 Torpedo Bomber Squadron. He served in the United Kingdom, Algeria, Sicily, Malta, Palestine, Tunisia and Egypt. He participated in 56 consecutive missions before a two week vacation in Canada. Ordinarily, he would have been sent for a two week vacation after 30 missions but he was needed in action. In 2015, Jerry and other Second WWII Veterans, were recognized for their exemplary service to Canada.
Jerry will be lovingly remembered by his wife, Maria (Bourque); his sons, Edgar (Rosie), Gerard (Kathy), Victor (Sandie), Dennis (Jocelyne) and Jacques; his daughter, Janice; 15 grandchildren; 17 great-grandchildren; his sister-in-law, Tootsie Landry, as well as by several nieces and nephews.
Besides his parents, he was pre-deceased by his first wife of 39 years and mother of his 6 children, Edna (Melanson) from Cap-Pele; his second wife Marguerite (Cormier), as well as by all of his brothers and sisters.
Funeral arrangements have been entrusted to Campbell's Funeral Home, 89 Bridge Street, Sackville N.B. (506) 364-8188. Visiting hours will take place on Thursday, April 6, 2017 from 7-9 pm at Frenette's Funeral Home, 2642 Chemin Acadie, Cap-Pele, NB and on Friday, April 7, 2017 from 2-4 and 7-9 pm at Campbell's Funeral Home in Sackville. The Royal Canadian Legion Branch #26, Sackville will hold a memorial service at Campbell's Funeral Home at 7 pm on Friday evening. The funeral service will take place on Saturday, April 8, 2017 at 11 am at St. Vincent's Roman Catholic Church with Father Charles Broderick officiating. Following the service a reception will be held at the church. The burial will take place in the spring in the Holy Rosary St. Vincent's Cemetery.
Jerry's family wish to extend special thanks to the staff at the Castels des Flots Bleu for the care and compassion provided him since 2012. Thanks also to his family physician and staff as well as to the staff at the Moncton Hospital, the Dr. Georges L. Dumont University Hospital Center as well as to the First Responders for their kindness and care.
In lieu of flowers, donations in memory of Jerry may be made to the Sackville Memorial Hospital, Heart and Stroke Foundation or to the charity of one's choice. On-line condolences & sharing of memories may be forwarded to the family through our website www.campbellsfuneralhome.com or by visiting the funeral home Facebook page.