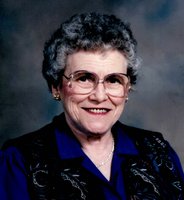 Winifred Brooks
It is with sadness that we announce the death of Lottie Winifred Brooks on March 29, 2017 at the age of 94. Born in Upper Sackville on December 8, 1922, she was the daughter of the late Clarence and Lottie (Harrison) Thompson.
Winifred worked for her family, her church and her community. She and her husband Frank raised three children and operated the family farm. Her faith was strong and she was a life-long member of the Middle Sackville Baptist Church, where she gave freely of her time and talents: teaching Sunday School, singing in the choir, working with youth groups and the Missionary Society, acting in plays and quilting with the Ladies Aid. She was a member of the Women's Institute and was very proud of her family and community heritage.
Before dementia took away her zest for life, Winifred was always up for fun, be it a shopping trip, a crockinole game, a waterfight, a wild story or a costume event! She was a product of the Depression and saved everything, and we continue to discover many treasures in her home. She was a caregiver and a peacemaker who will be remembered for her hospitality, her concern for others and her love of laughter.
She is survived by her three children: Barbara Wheaton (Robert) and Wallace Brooks (Becky) of Sackville, and Charlotte Brooks (David Cook) of West LaHave, NS; three grandsons, Jarrid Brooks (Kristene) and Justin Brooks (Sandy) of Moncton and Andrew Wheaton of Sackville; two step-granddaughters, Angela MacDougall Smith (Ryan) and Meghan McDougall, as well as by two great-grandchildren, Samantha Brooks and Rheed Wheaton.
Besides her parents, she was predeceased by her husband, Frank Brooks, her sister, Alice Thompson, as well as by several aunts, uncles, cousins and friends. She was the youngest and last surviving member of her generation of the Thompson family.
Many thanks to the staff at the Drew Nursing Home for their care and attention.
Funeral arrangements have been entrusted to Campbell's Funeral Home, 89 Bridge Street, Sackville N.B. (506) 364-8188. Visiting hours will take place at the funeral home on Friday, March 31, 2017 from 7-9 pm and on Saturday, April 1, 2017 from 2-4 pm. The funeral service will take place at the Middle Sackville Baptist Church on Sunday, April 2, 2017 at 2:30 pm. The burial will take place at a later date in the Four Corners Cemetery.
In lieu of flowers, donations in memory of Winifred may be made to Camp Wildwood, the Canadian Cancer Society, the Drew Tantramar Foundation, the Middle Sackville Baptist Church or to a charity of your choice. On-line condolences & sharing of memories may be forwarded to the family through our website www.campbellsfuneralhome.com or by visiting the funeral home Facebook page.