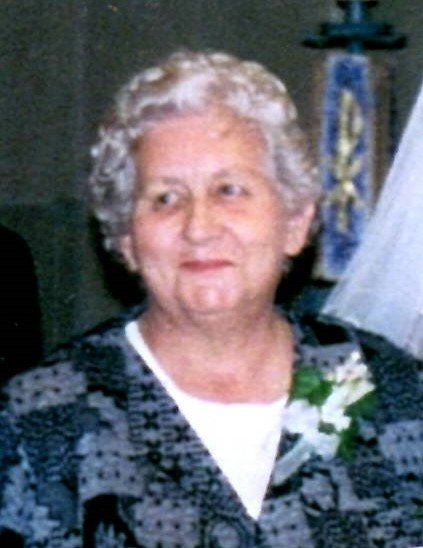 Obituary of Katherine Patterson
It is with great sadness that we must announce the passing of Katherine L. Patterson at the Sackville Memorial Hospital on Thursday, May 11, 2017. Katherine was 87 years of age.
Born in Tidnish, N.S. on September 22, 1929, she was the daughter of the late Annie Briggs.
Kay will be lovingly remembered by her husband of 68 years, William Patterson; her children, Linda (Gary) Dunham, Kevin (Marjorie) Patterson, Perry (Olive) Patterson, Rhonda (Anthony) Hicks and Lewis (Terri) Smith; her brother, Victor (June) Strang; her grandchildren, Cheryl, Angela, Dennis, Tina, Chris, Lori, Billy, Luke, Peter, Andrew, Jeffrey, Terry and Kenny; her great-grandchildren, Max, Olivia, Sam, Madison, Emily, William, Jacob, James, Tyler, Briana, Danni, James, Richard, Matthew, Dylan, Brandon, Scott and Michael; her great-great granddaughter; her daughter-in-law, Donna; her brother-in-law, Garnet as well as by several nieces and nephews.
She was pre-deceased by her mother, Annie Strang; her step-father, Roy Strang as well as by her son, Larry.
Arrangements have been entrusted to Campbell's Funeral Home, 89 Bridge Street, Sackville, N.B. (364-8188). The funeral service will take place at Campbell's Funeral Home on Sunday, May 14, 2017 at 3 pm with William Drysdale officiating. Visiting hours will take place at the funeral home on Sunday, May 14, 2017 from 2 pm until the time of the funeral service at 3pm. The burial will take place at a later date in the Point de Bute Cemetery.
In lieu of flowers, donations in memory of Kay may be made to support her daughter Rhonda's cancer journey. If you so desire, these donations may be paid at Campbell's Funeral Home where a receipt will be given or you may donate directly to the family. On line condolences & sharing of memories may be forwarded to the family through our website www.campbellsfuneralhome.com or by visiting the funeral home Facebook page.