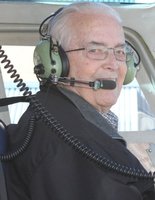 William F. "Willie" Patterson
We are heartbroken with the passing of an amazing dad, grandfather and friend, who passed away peacefully at the Sackville Memorial Hospital on April 5, 2018.
Willie was born to Flora (Robinson) Patterson and Joseph Patterson in Cookville N.B. on February 22,1918. He just celebrated his 100th birthday.
Willie will be lovingly remembered by his three adoring daughters, Patricia Baker (Bob), Faye Patterson (Buster Godwin) and Sally Brown (Duane Estabrooks); his five grandchildren, Christine, Jennifer, Brian, Alisa and Michael; his twelve great-grandchildren, as well as by many nieces and nephews.
He was predeceased by his wife of over 70 years, Coreen (Estabrooks) Patterson; his parents, Joe and Flora; his five sisters, Ena, Nina, Mary, Verna and Grace, as well as by his four brothers, Fred, Seward, Hersey and Raymond.
Willie was an avid hunter and gardener, but other than his family, fishing was his passion. Spending many quiet hours in rivers and streams, he always brought home enough fish to share with his friends and neighbors. His green thumb produced many a vegetable from his garden to share as well. Willie won many awards for his marksmanship and even in his nineties with poor eyesight he could sight in a rifle and rarely missed his target. He was an army veteran of World War 2. He retired from the CBC at 65 years of age, enjoying every day of his retirement and staying active.
His three daughters have been so blessed to have had this incredible man as their teacher, mentor and father for all of these years. A piece of our hearts passed away with him, but now he is walking into the sunset with the love of his life, Coreen. He will be missed by all of his loving family.
Funeral arrangements have been entrusted to Campbell's Funeral Home, 89 Bridge Street, Sackville, N.B. (506) 364-8188. The funeral service will take place at the funeral home on Saturday, May 5, 2018 at 2 pm with Pastor Scott MacKenzie officiating. The Royal Canadian Legion, Branch #26, Sackville, will hold a service at 1:45 pm.
Heartfelt thanks go out to Dr. Adrian Kelly, Dr. Cory Long, Dr. Pam Mansfield, the nurses and staff at the Sackville Memorial Hospital and the Paramedics who went above and beyond with their compassion and care.
Donations in memory of Willie may be made to Tantramar Extra-mural in Sackville, N.B. or to the Sackville Memorial Hospital Foundation. On-line condolences & sharing of memories may be forwarded to the family through our website www.campbellsfuneralhome.com or by visiting the funeral home Facebook page