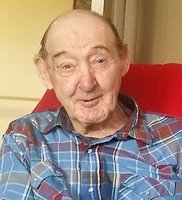 Euclide Gerald Landry
It is with deep sadness that we must announce the passing of Euclide G. Landry on Friday, February 2, 2018. Euclide passed away at the age of 84, at the Drew Nursing Home in Sackville.
Born on August 21, 1933 in Shediac, N.B., he was the son of the late Mary Florida (Richard) and Joseph William Landry.
Euclide was employed as a herdsman in Montreal for many years and upon returning to New Brunswick worked for Trueman's Farm in Aulac, N.B.
Euclide will be lovingly remembered by his four sisters, Leonie Etter, Elizabeth (Aubrey) Jones and Beatrice (William) Bernard, all of Point de Bute, N.B. and Dora (Roger) Lomax of Grand Bay-Westfield, N.B., as well as by many nieces and nephews.
Besides his parents, Euclide was pre-deceased by his three sisters, Bella (Arthur) Doiron, Margaret (Ronald) Belliveau and Theresa (Bliss) Jones, as well as by his two brothers, Edmond (Norma LeBlanc) and Albert (Marilyn Cresine).
Funeral arrangements have been entrusted to Campbell's Funeral Home, 89 Bridge Street, Sackville, N.B. (506) 364-8188. In keeping with Euclide's wishes, there will be no visiting hours or funeral service. The burial will take place in the spring in the Point de Bute Cemetery.
In lieu of flowers, donations in memory of Euclide may be made to the Drew Tantramar Foundation, Point de Bute Cemetery or to the charity of one's choice. On-line condolences & sharing of memories may be forwarded to the family through our website www.campbellsfuneralhome.com or by visiting the funeral home Facebook page.