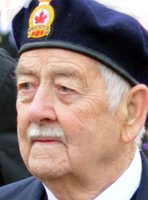 Harold Otis "Odie" Phinney
Harold Otis "Odie" Phinney, 89, passed away peacefully at the Drew Nursing Home in Sackville, on Tuesday, January 30, 2018.
Born in Sackville, Otis was the son of the late Ross and Jamima (Campbell) Phinney.
Otis worked at Enterprise Foundry until after it closed, also during that time co-owning with his wife, the local flower shop for many years. They then moved to Fredericton when he accepted a position with the NB Department of Industry Trade and Commerce, returning to Sackville to enjoy their retirement.
Otis was very community and civic-minded. He served as a Sackville Councillor, Deputy Mayor and on a number of community boards, striving to make Sackville a greater place to live and raise a family. He extended this same philosophy, dedication and commitment by taking on projects and leadership roles with Kinsmen, K40, the Main Street Baptist Church, Sackville Rotary, Masons and Shriners.
A life-long respect for those serving in the military and those who sacrificed their lives for Canada, drew him to be a member of the 8th Canadian Hussars (Princess Louise's) reserves for many years.
A passion for the outdoors defined his life. Otis enjoyed hunting, fly fishing, camping, boating, working outdoors at his farm, building and maintaining his cottage and garden at Murray Corner.
He is survived by his son, Stephen (Audrey) Markham Ont. and daughter, Beverley Goguen (David) Riverview NB.; grandchildren, Meredith Phinney (Jordan Rhea), Rebecca and Matthew (Rachelle) Phinney, Sara Ramsay (Bruce), Allison Goguen, as well as by his great-grandchildren, Vivian, Weston and Lincoln Phinney. They will mourn and miss their father, grandfather and great-grandfather.
With his wife of over 65 years, Edna (Steeves), they enjoyed winters in Florida, golfing with friends and summers at their cottage in Murray Corner, until her passing in 2014. He is also predeceased by an infant son, Jeffrey Thomas and by his siblings, Eva Brown, Cavell Mesheau, Ruby Ayer, Connie Carter, Jim, Kenneth (Bill), Donald and Gerald (Jerry).
Funeral arrangements have been entrusted to Campbell's Funeral Home, 89 Bridge Street, Sackville, N.B. (506) 364-8188. The funeral service will take place at Campbell's Funeral Home, on Saturday, June 2nd, 2018 at 1 pm with Masonic Lodge and Legion services taking place from 12:30 to 1:00 pm followed by the funeral service with Pastor Danny Barrett officiating. Burial will take place in the Sackville Cemetery.
In lieu of flowers donations in memory of Otis may be made to the Canadian Diabetes Association, Atlantic Salmon Federation or to the Sackville Memorial Hospital. On-line condolences & sharing of memories may be forwarded to the family through our website www.campbellsfuneralhome.com or by visiting the funeral home Facebook page.