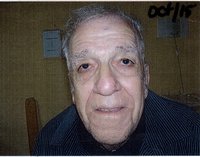 Earl Travers
It is with great sadness that we announce the passing of Earl Travers at the Drew Nursing Home in Sackville. Earl passed away on Thursday, December 7, 2017 at the age of 80.
Earl has three children of unknown whereabouts but over the past few years at the Drew, he made a few very close friends who will miss him dearly.
Earl was born in Quebec and served in the Army for three years. He lived in several provinces throughout his life, working in Calgary, Vancouver, Brampton, Montreal and NFLD. Earl loved the outdoors, going for walks, drives and loved animals. He resided at Foyer Chex Nous from 2011 to 2014 and in 2014 he moved to the Drew. From the time Earl moved in, staff and residents immediately became his extended family. Earl was pleasant and friendly and the Drew staff enjoyed helping to care for him.
Arrangements have been entrusted to Campbell's Funeral Home, 89 Bridge Street, Sackville, N.B. (506) 364-8188. A memorial service for Earl will be held at the Drew Nursing Home in the Coates Lounge on Wednesday, December 13, 2017 at 3:00 pm.
In lieu of flowers, donations in memory of Earl may be made to the Drew Tantramar Foundation or to the charity of one's choice. On-line condolences & sharing of memories may be forwarded to the family through our website www.campbellsfuneralhome.com or by visiting the funeral home Facebook page.