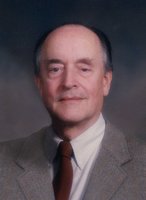 John Gareth Greenslade
It is with deep sadness that the family of Gareth Greenslade announces his passing at the Sackville Memorial Hospital on Tuesday, August, 15, 2017. Gareth was 87 years of age.
Born in Nottingham, England on July 5, 1930, he was the son of the late Rev. Reginald R. R. Greenslade and Edith H. Willman.
Gareth will be lovingly remembered by his step-son, Geoffrey Patridge of Toronto, Ontario; his nephew, Andrew Taylor, as well as by his four nieces, Stella Taylor, Vivien Lindner, Penelope Holland and Amanda Greenslade.
Besides his parents, he was pre-deceased by his wife of 60 years, Mary Patricia (Rogers) Greenslade in 2015; his brother, David R.W. Greenslade, as well as by his sister, Annette Taylor.
Arrangements have been entrusted to Campbell's Funeral Home, 89 Bridge Street, Sackville, N.B. (364-8188). Visiting hours will take place at the funeral home on Friday, August 25, 2017 from 2-4 pm. The funeral service will take place at the funeral home on Saturday, August 26, 2017 at 11 am with the Rev'd. Dr. Ranall Ingalls officiating. Following the service, there will be a reception for family and friends at the funeral home.
In lieu of flowers, donations in memory of Gareth may be made to the charity of one's choice.