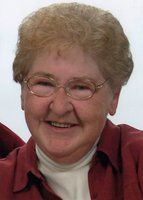 Margaret Anne Hicks
It is with deep sadness and heavy hearts, that we must announce the passing of Margaret Anne (Quinn) Hicks, at the Sackville Memorial Hospital on Wednesday, July 5, 2017. Margaret was 68 years of age.
Born on May 18, 1949 in Amherst, N.S., she was the daughter of the late Charles Wilson Quinn and Geraldine Mary (Forrest) Quinn.
Margaret was a graduate of Amherst Regional High School and went on to take several business courses at NBCC as well as Mount Allison University. Margaret worked as a dental technician for WR Horton Dental Laboratory in Amherst from 1969 to 1987 and Hub Dental in Moncton from 1987 to 1990. Margaret did volunteer work for the Progressive Conservative Party of New Brunswick and was able to serve the constituents of Tantramar/Memramcook working as an administrative professional for MLAs Peter Mesheau and Mike Olscamp for 17 years, retiring in 2015. She was a long-time member and current President of St. Vincent's Catholic Women's League (CWL) as well as the Past President of the CWL at the Diocesan and Provincial level.
Margaret will be lovingly remembered by her husband of 27 years, Robert Hicks of Sackville; her son, Michael (Virginia) Quinn of Oregon, USA; her sister, Millie MacLeod of Amherst, N.S.; her two grandchildren, Michelle and Mattison of Oregon, USA, as well as by several nieces and nephews.
Funeral arrangements have been entrusted to Campbell's Funeral Home, 89 Bridge Street, Sackville N.B. (506) 364-8188. Visiting hours will take place on Sunday, July 9, 2017 from 7-9 pm at the funeral home. Funeral Mass will take place at St. Vincent's Roman Catholic Church, Sackville, on Monday, July 10, 2017 at 1 pm with Father Charles Broderick officiating. The burial will take place at a later date.
In lieu of flowers, donations in memory of Margaret may be made to the Catholic Women's League or to the charity of one's choice. On-line condolences & sharing of memories may be forwarded to the family through our website www.campbellsfuneralhome.com or by visiting the funeral home Facebook page.